Kumar Appaiah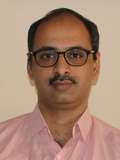 I am an Associate Professor in the Department of Electrical Engineering, Indian Institute of Technology Bombay.
From March 2013 till June 2014, I was working at Qualcomm Research New Jersey on problems related to visible light communication. Before that, I was a graduate student in the Department of Electrical and Computer Engineering at the University of Texas at Austin. I successfully defended my Ph.D. dissertation in February 2013.
Contact
E-mail: ee.iitb.ac.in, preceded by an @ sign, preceded by akumar
Education
Research
My work involves studying and quantifying the benefits and performance of multiple-input multiple-output (MIMO) concepts in optical and wireless communication systems systems. In particular, I aim to study different signaling as well as signal processing techniques which would enable efficient MIMO communication over optical fibers, as well as wireless communication links.
Current PhD Students
The following (regular) PhD students are working with me currently.
Komal Ojha, on multiplexing based multimode fiber systems
Anju R., on low complexity equalization for multimode fiber systems
Ajith J., on frequency divison multiplexing for fiber systems
B. Ravi Kumar, on high speed plastic fiber communication systems
Mehta Parth Harshadbhai, on filters for radar applications (co-guided with Prof. Rajbabu)
Anil Kumar, on wireless communication systems and information theory (co-guided with Prof. Sibi Raj Pillai)
Useful Links
Publications
Journal
A. Kumar, K. Appaiah, S. B. Pillai, "On the Sum Capacity Achieving Precoders and their CSI Requirements for MIMO-BC," IEEE Communications Letters, to appear - 2022 (link)
I. Merin. Baby, K. Appaiah, R. Chopra, "Optimal Channel Tracking and Power Allocation for Time Varying FDD Massive MIMO Systems," IEEE Transactions on Communications, vol. 70, no. 2 - 2022 (link)
M. B. Patil, R. D. Korgaonkar, K. Appaiah, "GSEIM: A General-purpose Simulator with Explicit and Implicit Methods," Sadhana, vol. 46, no. 1 - 2021 (link)
A. Radhakrishnan, R. Prasad, K. Appaiah, "Efficient multiplexing using delayed CSI in few-mode fiber links," Optical Fiber Technology, vol. 66, no. 1 - 2021 (link)
A. E. Bangera, K. Appaiah, "Quantum-confined ultra-wideband Si-based absorbers by a non-lithographic approach," Solar Energy Materials and Solar Cells, vol. 230, no. 1 - 2021 (link)
A. Miryala, I. M. Baby, K. Appaiah, S. B. Pillai, "A Post-Coder Feedback Approach to Overcome Training Asymmetry in MIMO-TDD," IEEE Transactions on Vehicular Technology, vol. 70, no. 6 - 2021 (link)
R. Arjun, H. Shah, S. Dhua, P. Murali Krishna, K. Appaiah, V. M. Gadre, "Low Complexity FBMC for wireless MIMO systems," Elsevier Physical Communications, vol. 47, no. 1 - 2021 (link)
S. Nijhawan, A. Gupta, K. Appaiah, R. Vaze, N. Karamchandani, "Flag manifold based precoder interpolation techniques for MIMO-OFDM systems," IEEE Transactions on Communications, vol. 69, no. 7 - 2021 (link)
H. Rahman, A. Vinayachandran, S. Raj. B. Pillai, K. Appaiah, R. Vaze, N. Kashyap, "Deadline Constrained Packet Scheduling in the Presence of an Energy Harvesting Jammer," IEEE Transactions on Green Communications and Networking, vol. 5, no. 1 - 2021 (link)
A. E. Bangera, K. Appaiah, "Three-Dimensional Grids of Optimized Ti-Compounds on Si for Ultra-Wideband Optical Absorption," ACS Applied Materials & Interfaces, vol. 12, no. 35 - 2020 (link)
M. Madan, A. Gupta, K. Appaiah, "Scalar Feedback based Joint Time-Frequency Precoder Interpolation for MIMO-OFDM Systems," IEEE Wireless Communications Letters, vol. 9, no. 9 - 2020 (link)
A. Radhakrishnan, K. Appaiah, "Mode Subset Selection and Feedback for Low Complexity Equalization in DWDM MMF Links," IEEE Communications Letters, vol. 24, no. 8 - 2020 (link)
K. Appaiah, D. Pal, "All-Pass Filter Design Using Blaschke Interpolation," IEEE Signal Processing Letters, vol. 27, no. 1 - 2020 (link)
A. E. Bangera, K. Appaiah, "Tunable wettability and prediction of total surface energy for nanocoatings: An empirical model," Surface and Coatings Technology, vol. 383, no. 1 - 2020 (link)
A. E. Bangera, K. Appaiah, "A conditional justification for the determination of surface energy of solids using contact angle methods," Materials Chemistry and Physics, vol. 234, no. 1 - 2019 (link)
J. C. Jacob, K. Appaiah, "Mode multiplexing using Principal Modes in Few-mode Fiber Links with Delayed Feedback," IEEE Communications Letters, vol. 23, no. 8 - 2019 (link)
R. Prasad, K. Appaiah, "Impact of modulation bandwidth on multiplexing using principal modes in MMF links," Optics Express, vol. 26, no. 2 - 2018 (link)
J. C. Jacob, R. Mishra, K. Appaiah, "Quantization and Feedback of Principal Modes for Dispersion Mitigation and Multiplexing in Multimode Fibers," IEEE Transactions on Communications, vol. 64, no. 12 - 2016 (link)
K. Appaiah, S. Vishwanath, S. R. Bank, "Impact of Fiber Core Diameter on Dispersion and Multiplexing in Multimode-Fiber Links," OSA Optics Express, vol. 22, no. 14 - 2014 (link)
K. Appaiah, S. Zisman, A. K. Das, S. Vishwanath, S. R. Bank, "Analysis of Laser and Detector Placement in Incoherent MIMO Multimode Fiber Systems," IEEE/OSA Journal of Optical Communications and Networking, vol. 6, no. 4 - 2014 (link)
K. Appaiah, S. Vishwanath, S. R. Bank, "Vector Intensity-Modulation and Channel State Feedback for Multimode Fiber Optic Links," IEEE Transactions on Communications, vol. 61, no. 7 - 2013 (link)
K. Appaiah, R. Salas, S. Vishwanath, S. R. Bank, "Offset Coupling, Feedback, and Spatial Multiplexing in 4 × 4 Incoherent-MIMO Multimode Fiber Links," Journal of Lightwave Technology, vol. 31, no. 17 - 2013 (link)
K. Appaiah, S. Vishwanath, S. R. Bank, "Device Design and Signal Processing for Multiple-Input Multiple-Output Multimode Fiber Links (Invited)," Proc. of SPIE, vol. 8267, no. 1 - 2012
K. Appaiah, S. Vishwanath, S. R. Bank, "Advanced Modulation and Multiple-Input Multiple-Output for Multimode Fiber Links," IEEE Photonics Technology Letters, vol. 23, no. 20 - 2011 (link)
Conference
H. Rahman, A. Vinayachandran, S. B. Pillai, K. Appaiah, R. Vaze, "A Game Theoretic Model for Deadline Constrained Packet Scheduling with an Energy Harvesting Jammer," 2020 International Conference on Computing, Networking and Communications (ICNC) - 2020 (link)
P. Sankhe, S. Azim, S. Goyal, T. Choudhary, K. Appaiah, S. Srikant, "Indoor Distance Estimation using LSTMs over WLAN Network," 2019 16th Workshop on Positioning, Navigation and Communications (WPNC) - 2019 (link)
M. Khaturia, K. Appaiah, A. Karandikar, "On Efficient Wireless Backhaul Planning for the Frugal 5G Network," 2019 IEEE Wireless Communications and Networking Conference Workshop (WCNCW) - 2019 (link)
P. Agrawal, K. Appaiah, "Kalman Filter Based Channel Tracking for Precoded GFDM Systems," TENCON 2019 - 2019 IEEE Region 10 Conference - 2019 (link)
A. Bangera, K. Appaiah, S. Chakrabarti, "Surface engineering using compounds of titanium nanocoatings for silicon based optical devices," SPIE Photonics West - 2019 (link)
A. Gupta, K. Appaiah, R. Vaze, "Predictive Quantization and Joint Time-Frequency Interpolation technique for MIMO-OFDM precoding," 2019 IEEE International Conference on Communications (ICC) - 2019
N. Murali K. Appaiah, "Keyboard Side Channel Attacks on Smartphones Using Sensor Fusion," 2018 IEEE Global Communications Conference (GLOBECOM) - 2018 (link)
V. Arya, K. Appaiah, "Kalman Filter Based Tracking for Channel Aging in Massive MIMO Systems," 2018 International Conference on Signal Processing and Communications (SPCOM) - 2018
R. Prasad, K. Appaiah, "Utility of Delayed CSI Feedback in Mode Division Multiplexed Multimode Fiber Links," 2018 International Conference on Signal Processing and Communications (SPCOM) - 2018
J. C. Jacob, K. Appaiah, "Limited Feedback and Interpolation of Principal Modes in Spatially Multiplexed WDM Fiber Links," 2018 International Conference on Signal Processing and Communications (SPCOM) - 2018
R. Arjun, A. Sukhwani, K. Appaiah, V. Gadre, "Non-orthogonal Transmultiplexers for FBMC with Controlled ISI," 2018 International Conference on Signal Processing and Communications (SPCOM) - 2018
J. C. Jacob, K. Appaiah, "Multiplexing using principal modes in spliced MMFs with mode dependent losses," 2017 Twenty-third National Conference on Communications (NCC) - 2017
R. Mishra, J. C. Jacob, K. Appaiah, "Quantization and Feedback of Principal Modes for High Speed Multimode Fiber Links," IEEE International Conference on Communications (ICC), Kuala Lumpur - 2016 (link)
R. Mishra, J. C. Jacob, K. Appaiah, "Limited feedback of principal modes for high speed multimode fiber links," 2015 Workshop on Recent Advances in Photonics (WRAP), Bengaluru - 2015 (link)
K. S. Sanila, K. Appaiah, "Low Complexity Equalization Using Mode-Subset Selection in MIMO Multimode Fiber Links," IEEE Global Communications Conference (GLOBECOM), San Diego, CA - 2015 (link)
K. Appaiah, "Detector and Mode Subset Selection for DSP based Multimode Fiber Links (Invited)," Twenty First National Conference on Communications (NCC), Mumbai - 2015 (link)
K. Appaiah, R. Salas, S. Vishwanath, S. R. Bank, "Enhancing Data Rates in Graded-Index Multimode Fibers with Offset Coupling and Multiplexing," Optical Fiber Communication Conference, Anaheim, CA - 2013 (link)
O. O. Koyluoglu, K. Appaiah, H. Si, S. Vishwanath, "Expansion Coding: Achieving the Capacity of an AEN Channel," IEEE International Symposium on Information Theory Proceedings (ISIT), Boston, MA - 2012 (link)
K. Appaiah, S. Zisman, S. Vishwanath, S. Bank, "Dynamic Detector Selection for Multiple-Input Multiple-Output (MIMO) Multimode Fiber Links," CLEO: Science and Innovations, San Jose, CA - 2012 (link)
K. Appaiah, S. Vishwanath, S. R. Bank, "Device Design and Signal Processing for Multiple-Input Multiple-Output Multimode Fiber Links (Invited)," SPIE OPTO, San Francisco, CA - 2012
K. Appaiah, S. Zisman, S. Vishwanath, S. R. Bank, "Analysis of Laser and Detector Placement in MIMO Multimode Optical Fiber Systems," IEEE International Conference on Communications (ICC), Ottawa, ON - 2012 (link)
K. Appaiah, O. O. Koyluoglu, S. Vishwanath, "Polar Alignment for Interference Networks," 49th Annual Allerton Conference on Communication, Control, and Computing, Allerton, IL - 2011 (link)
K. Appaiah, S. Vishwanath, S. R. Bank, "Multiple-Input Multiple-Output with Predistortion and Signal Processing for Multimode Fiber Links," CLEO: Science and Innovations, Baltimore, MD - 2011 (link)
K. Appaiah, A. Ashikhmin, T. L. Marzetta, "Pilot Contamination Reduction in Multi-User TDD Systems," IEEE International Conference on Communications (ICC), Cape Town, South Africa - 2010 (link)
---
Last updated on 18/05/2022 at 17:03 IST