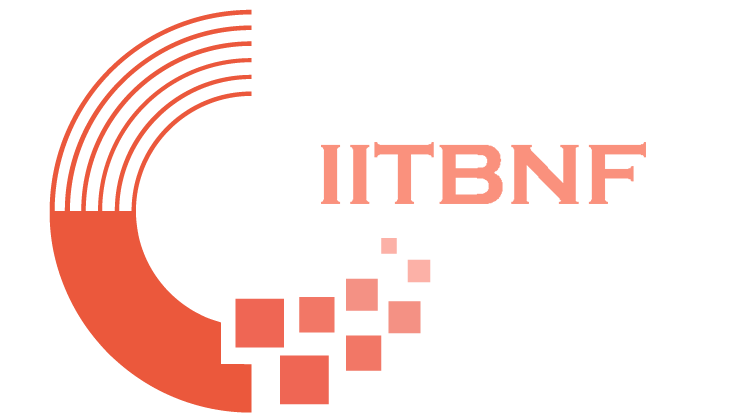 26 December 2021 | Adil Khan, Pudi Seshasainadh, Janeel Patel
---
Those who have had a chance to walk along the never-ending pathways of the Infinite Corridor might have seen the tall and sleek nanoelectronics building which houses the IITB Nanofabrication Facility (IITBNF) on its lower levels. However, what many might not be aware of is the amazing research that goes on within the confines of the numerous labs within this facility. Through this article, we aim to take our readers on a quick tour of the IITBNF and provide them with a glimpse of the research work being undertaken inside this state-of-the-art facility.
As stated by IITBNF itself, its guiding mission is to provide a benchmark for state-of-the-art research, learning and outreach in the fields of semiconductor technology and nanotechnology. IITBNF consists of over 18 laboratories under its umbrella and has 60 faculty members associated with it spanning multiple research domains. Such is its importance that even Joe Biden (then the US Vice President) spent two hours touring this facility while on a visit to IIT Bombay in 2013. We would like to especially thank Prof. Udayan Ganguly, a key member and proponent of the IITBNF ecosystem, for sharing a lot of insights on its history and significance with us.
History of IITBNF
Nanofabrication is an integrative and complicated process, with a different set of tools required for each stage of the fabrication process. As Prof. Udayan points out, the culture at IIT Bombay is of setting up shared labs, which are open to researchers across different groups. This is driven by the fact that a large facility such as the IITBNF is beyond what any single faculty member can host alone, and the huge operational requirements for just running such a facility requires collaboration between multiple research groups. IITBNF, together with a similar facility (CeNSE) at IISc form the two earliest pioneers of nanoelectronics research in India.
IITB's journey with device fabrication goes back to 1985 when the first device fabrication lab with a Class 1000 cleanroom was set up through an MHRD funded project on the Centre for Microelectronics. This project was managed jointly by Prof. Juzer Vasi, Prof. A. N. Chandorkar and Prof. R. Lal; who together successfully built a 3 micron NMOS fabrication lab to promote research and teaching in microelectronics. The main boost towards setting up the present day IITBNF came in 2006 with an INR 500 million grant from the Government of India for a collaborative project between IITB and IISc to set up a Centre of Excellence in Nanoelectronics. Many of the cleanrooms, labs and instruments at IITBNF came up between 2006 and 2012 with support obtained from industrial collaborators as well.
Back in 2006, no one expected IITBNF to be a huge success; rather it was more of an aspirational thing. However, fifteen years on, research data today shows that we have done extremely well in nanoelectronics research. A recent article by Prof. Udayan, Sandip Lashkare and Prof. Swaroop published in IEEE Electronic Devices Society Newsletter (January 2021) details the rise of nanoelectronics research in India, led by IIT Bombay. Starting from only a few contributions to nanoelectronics engineering before 2011, we have become one of the top 10 nations in this field, as measured by the number of papers published in IEEE Electronic Devices Letters (EDL) and Transactions on Electronic Devices (TED).

India among the top 10 contributors to research in nanoelectronics in the year 2019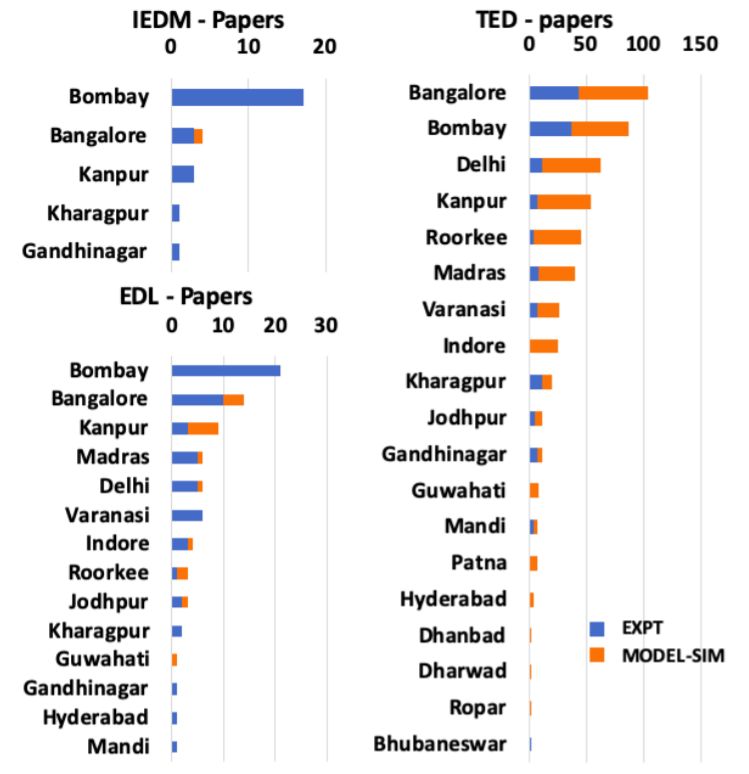 IIT Bombay leads the country in nanoelectronics research as measured by the number of contributions to IEDM, EDL and TED (three eminent publications in this research domain)
Research groups associated with the IITBNF have a large number of industrial collaborations including sponsored projects and fellowships from companies such as Intel, Global Foundries, Applied Materials, IMEC and Micron among numerous others. The establishment of the National Centre on Photovoltaic Research and Education (NCPRE) in 2010 has aided in the expansion of tools and equipment especially in the fields of solar cell research and applications. Through the INUP (Indian Nanoelectronics Users Program), the facilities at IITBNF are also thrown open to the rest of the country, with researchers from other universities and organisations coming here to work on their research proposals and projects.
Areas of Expertise
Research at IITBNF spans numerous technology domains such as computing devices, communication devices and environmental sensors to name a few.
Computing Devices
This has been the traditional area of strength with numerous publications in high-impact journals and conferences and tens of national and international patents. IITBNF houses clean rooms, equipment and process tools for all essential device fabrication processes. Additionally, IITBNF is well-equipped with state-of-the-art device simulation and characterisation facilities, including commercial process tools. Ongoing research in the lab focuses on contemporary topics such as CMOS-based device reliability, advanced CMOS logic devices, advanced memory devices and beyond-CMOS approaches.
Sensing & Actuator Devices
This research domain at IITBNF encompasses a wide range of materials and device platforms that find applications in public health, homeland security and agriculture. Work done in this area is interdisciplinary bringing together groups from Electrical Engineering, Mechanical Engineering, Chemistry and Bio-sciences departments. The facility has full-fledged CAD setups, fabrication tools and characterization facilities for micro/nano electromechanical devices. Some technologies developed here include a point of care sensor for detecting cardiac markers, a handheld device for explosive detection, a wearable web-enabled ECG monitoring device and a soil moisture measurement unit. Prototypes of 320x256 Quantum Dot Infrared Photodetector based IRFPA (infrared photodetectors and focal plane arrays) thermal imagers were developed and demonstrated for the first time in India at IITBNF.
Energy-harvesting Devices
This is a fast-growing, vital area of research attracting immense interest in recent times. IITBNF currently houses 7 laboratories (including a class 1000 cleanroom) exclusively dedicated to solar cell research, which work on modelling, fabrication and characterisation of crystalline, thin film, multi-junction and organic solar cells. Apart from solar energy, the research work at this facility also revolves around deep exploration and evaluation of various other widely available forms of energy to develop energy harvesting devices for numerous electronic applications. Work in this domain is multidisciplinary, bringing together researchers from Energy Science & Engineering, Chemistry and Electrical Engineering departments, among others.
Communication Devices
This research area at IITBNF focuses on relatively new topics such as III-V semiconductors, which are increasingly being deployed for high-speed and high-power applications. IITBNF now possesses state-of-the-art facilities for simulation, characterisation and fabrication of III-V compound semiconductor-based high-speed switches and optoelectronic devices.
Micrograph of first gallium-nitride HEMT fabricated in India. A gallium nitride (GaN) based high electron mobility transistor (HEMT) was first successfully fabricated in India in 2009 at this facility.