This section is concerned with the application of nanotechnology for information processing and information storage. The activities are focused on nanoelectronics (Transistors, LEDs, Solar Cells) and nano opto-electro-mechanical systems (Bio-Sensors etc.), and on magnetic and magneto-resistive materials processing.
One area of activity is focused on nano-crystalline silicon (nc-Si) with grain size less than 10 nm, which can be applied as window layers in solar cells and for nano-devices such as micro cantilevers and micro motors.
The nano silicon CMOS Transistors activity is concerned with the development of advanced process steps and modules for sub-50 nm CMOS FETs. The idea is to employ novel unit processes and to integrate them to realize an ultra-short channel nano CMOS device. Specific process steps that are being developed are low-stress silicon nitride layers as gate dielectric, gate material engineering, and plasma ion-implantation for very shallow source/drain junctions.
The carbon nanotube (CNT) based device activity is focused on applications in storage devices such as ultra-capacitors, and solar cells. More recently, the promising CNT applications in high performance logic devices and NEMS is also being explored. CNT properties are closely linked to their shape and size. A significant breakthrough will result if metallic and semiconducting CNTs can be produced at low cost, and localized on silicon (and other) planar substrates. The preferred CNT growth process is Chemical Vapour Deposition (CVD).
The CVD process allows for specificity of single-wall or multi-wall nanotubes through appropriate selection of process gasses. Decomposition of the feed gas occurs only at the catalyst sites (metal nanoparticles- Zn, Fe, or Mo), reducing amorphous carbon generated in the process. Decomposed carbon molecules then assemble into CNTs at the catalyst sites. A significant goal is to pattern catalyst nano-particles on a substrate lithographically, to seed a specific type of CNT growth at intended locations. <![if !vml]>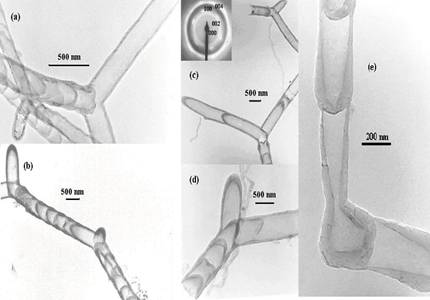 <![endif]>
Fig.1 Carbon nanotube structures (courtesy A. Chatterjee and R. Banerjee, Energy Systems Engineering)
The development of organic molecular structures and systems (OMOS) involves (a) study of molecular organization of prototypic amphiphilic molecules at air-water interface and in Langmuir-Blodgett mono-layers and multi-layers, and (b) development of semiconducting sulphide nanoclusters in organic multiplayer matrix and ultra-thin, nanocrystalline oxide films from organic multiplayer precursors, and nanocomposites based on conducting polymers. Some of these systems have been used to fabricate light emitting diodes and bio-sensors.
The development of NEMS Bio-sensors involves fabrication of integrated cantilever arrays for detecting markers for Acute Myocardial Infarction (AMI) - cardiac muscle damage that accompanies a heart attack. The vision is to develop
field-portable, high-throughput, protein detection systems as a common platform for characterizing a wide spectrum of diseases. An advantage of such a "protein-chip" is that it detects multiple markers in a single reaction, whereas currently available assays require a separate reaction for each analyte. Thus the cost of performing a cantilever assay can be potentially much lower.
The current effort is focused on fabrication of integrated polymer-nanocrystalline silicon based cantilever arrays. These cantilevers will be equipped with piezo-resistor grids with dimensions varying from 10 nm to 100 um. The cantilevers will provide sites that will bind the proteins in question. The resultant mass or stress induced deflection will be sensed optically, as well as through a change in resistance. Other necessary components will be fluidic systems, reservoirs etc. The follow-up development will involve design and fabrication of cantilever arrays with nanometer-scale embedded elements (such as resistors) and an integrated nano CMOS circuit for electrical resonant detection. Theoretical studieshave predicted that for a 1 Hz frequency resolution the minimum detectable mass change is ~10-18 g for such Nano Systems.
<![if !vml]>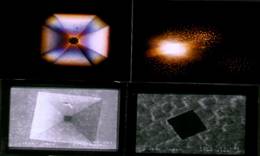 <![endif]>
<![if !vml]>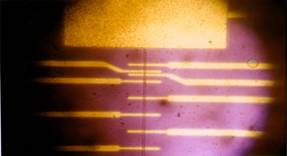 <![endif]>
Fig. 2a) Top-view of a Bio MEMS micro-capillary electroporator (uCE) system,
2b) SEM image and Micrograph of a micro-pore as part of the uCE system.
Alternative NEMS fabrication strategies are being developed such as structuring glass using a combination of UV-light and annealing on the other hand offers possibility of making 3-D nanodevices. Among the existing methods of characterizing NEMS, optical measurement methods are the most accurate,noninvasive and nondestructive. Work in this area at IIT Bombay is going on for developing a platform for facilitating development and calibration of computer-controlled measurement systems with moving optical elements. The platform will be used to develop and test new techniques of optical measurements. The activity will be used for measurement and calibration of bio-sensors and robotic systems.
Encapsulation and packaging are show-stopper issues for OMOS and NEMS devices noted above, where tolerance for humidity and oxygen is extremely low. Recently initiated activity in this area involves characterization of polymer/ceramic nano-scale coating stacks, where the polymer layers provide for an "atomistically smooth" (r.m.s. surface roughness < 1 nm) planarization layer, and the ceramic layers act as moisture/oxygen barriers.
Photonic crystals are novel nanostructures that are used in photonic crystal fibers for dispersion compensation in 
 fiber-optic communication, for very sharp bending of light in optical ICs and in zero-threshold lasers. 
Theoretical base for carrying out experimental work on these crystals have been established at IIT Bombay. 
The experimental work will involve synthesis of organic samples of photonic crystals by self-assembly followed by
characterization. 
Ultra thin films and multi-layer reflecting mirrors useful for x-ray optics are being developed. The research is
focused on the physical processes that govern ultra thin (1-2nm) films formation which in turn control the physical
properties including optical and electronic. A highly versatile Pulsed Laser Deposition technique is used to form these films.
The properties of nanostructured magnetic materials change markedly with decreasing size and offer 
significant possibilities for novel devices.  Currently, the focus is on preparation and characterization of a series 
of multilayers.  Ferromagnetic layers will be chosen among Fe, Ni, and Co alloys, as certain compositions of these 
alloys exhibit outstanding soft magnetic properties.  Nano composites of the above with non magnetic and non c
onducting systems such as SiO2, Al2O3 and ZrO2 are being investigated for the possibility of enhanced magneto 
resistance.  Magnetites that offer very interesting magneto transport properties in nanosized dimension are being pursued. 
One interesting application of magneto-resistive materials is Spin Valves, where the magneto-resistance of the samples c
an be easily changed by applying external magnetic fields.  Spin Valves can be used in a variety of devices like Magnetic 
Random Access Memories (MRAM), magnetic read heads, magnetic sensors, nonvolatile magnetic memories, etc.  
<![if !vml]>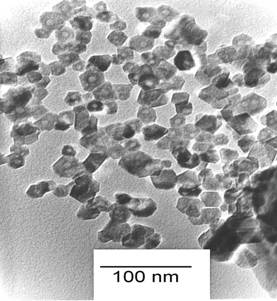 <![endif]>
Fig. 3 TEM micrograph of NiZn ferrite