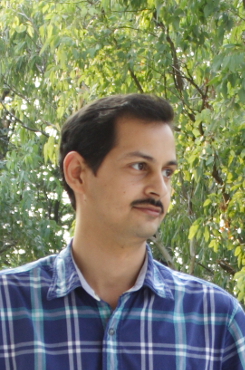 PUBLICATIONS
MOST RECENT: Journal paper in IEEE IT Transactions
CONTACT INFO.
animesh AT ee.iitb.ac.in
+91-22-2576-7407
211D, EE Main Building more ...
AWARDS and HONORS
MOST RECENT: Proposal selected for Google X Science Fair 2016
PRESENTATIONS
Invited talk at EECS, UC Berkeley
RESEARCH SUMMARY
PRIMARY TOPICS: Signal Quantization and Approximation, TV White Spaces
STUDENTS
RECENT GRADUATE: Ajinkya Jayawant, Ankur Mallick (DD-CSP), Abhinav Kumar (M.Tech)
TEACHING
EE 325 Probability and Random Processes
MISC
RECENT: SPCOM 2016 TPC Co-Chair
Brief bio: BTech 2001 from IIT Kanpur in Electrical Engineering. MS 2003 and PhD 2008 from UC Berkeley in Electrical Engineering and Computer Science. Assistant Professor in Electrical Engineering at IIT Bombay during May2009-Nov2015. Associate Professor in Electrical Engineering at IIT Bombay since Dec2015. Affiliate Member of the Signal Processing Theory and Methods Technical Committee of the IEEE Signal Processing Society. On the Editorial Board of IEEE Consumer Electronics Magazine.